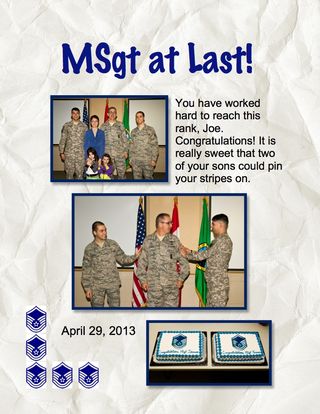 Our son-in-law reached a huge milestone on Monday when he was awarded his Air Force Master Sargeant stripes. He has been working on this promotion for several years. We are so proud of him. What makes it even a sweeter accomplishment is that two of his sons are also military and were present at the ceremony to pin his stripes on him. I got the image of the Air Force master sargeant stripes from the internet, reduced it in size, then copy and pasted to make the border in the bottom left corner of this scrapbook page.
To add texture to the background, I added Natural Composition Overlays - 9 colored with Sahara Sand to a Whisper White background. The title of the page was created with the Marker Felt font.
I use this particular Natural Composition Overlays pattern often to give definition and depth to backgrounds. If you haven't discovered the wonderful possibilities of overlay stamp brush sets, I encourage you to order this one by clicking on the linked name or visiting my online store here. Then begin experimenting with it. Changing your mind is just a click away and no paper or ink is wasted.
Supplies:
MDS digital download (130646), MDS disc (130647)
Natural Composition Overlays stamp brush set (130855)