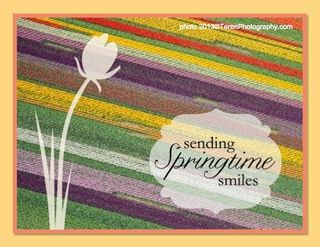 Spring has finally arrived! The last three days have been sunny and the high temps have been in the 60's. Yay and such joy!
The card above has an ariel view of the tulip fields near LaConner, Washington. This is a beautiful sign of spring in that area. (No, I didn't take the photo.)
So that is what spring looks like in the Skagit Valley of Washington. Here is what spring looks like here on Prince of Wales Island in Alaska.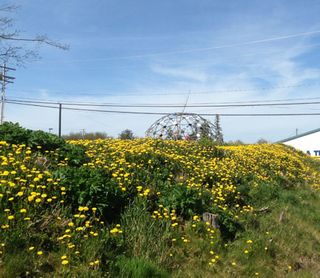 The roadsides, hillsides, and yards are filled with these sunny yellow flowers. The story is told that an early missionary to SE Alaska really missed dandelions so she had a friend send her dandelion seeds to plant in Alaska. What was she thinking?????!!!!! Alaska dandelions are huge! Just look at this clump. I haven't measured the diameter of one of them but I would estimate it is at least 1 1/2" across!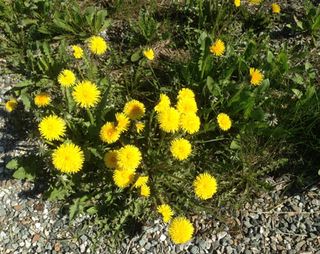 For the card, I used the greeting from the Easter Blossoms stamp brush set and the tulip blossom from the Convention 2011 Designer Template. I dropped the opacity of the tulip to 80% and the Convention 2012 Photobook Template - Curvy Frame Label to 60% . The mat around the photo was colored using the color picker to match one of the colors of tulips in the photo.Both of the convention designer templates are currently on sale for 25% off. As you can see, they are not just for creating scrapbooks. They are filled with tons of wonderful things to use for cards and 3-D items as well. Check down at the bottom of the post to see what these two kits include. Then click on the linked item names or visit my online store to order them. Like me, you will get your money's worth out of these templates!
Supplies:
MDS software digital download (130646) or MDS software disc (130647)
Easter Blossoms Stamp Brush Set (124436)
Convention 2011 Designer Template (127361)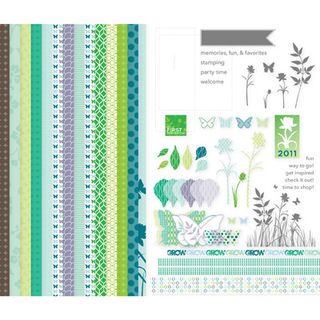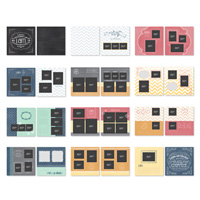 Convention 2012 Photobook Template (130971) - Download includes:
* 24-page photobook designer template (8" x 8")
* 71-piece stamp brush set
* 8 Designer Series Papers
* 3 embellishments
* 3 punches