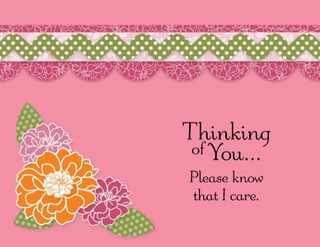 It's the last day to get the FREE Playful Polka Dots digital download! If you have been procrastinating, go do it now! Click here! Then come back and the rest of this post.
I used Regal Rose card stock for the base of the card. A very interesting thing happened when I tried Rose Red as the background. Check out the card below and see if you see the difference besides the color of the background.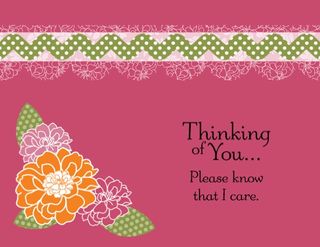 Yes, the white of the scalloped border looks like a lace border! All of the embellishments on this card are part of the Playful Polka Dots download. I love the cheery colors and patterns. The center of the Pumpkin Pie flower is actually a different flower I shrank in size and layered over the larger one. It was just chance that when I added the two flowers to my work space, they ended up on top of each other. I really liked the effect so kept them that way.
Several have asked how to find the various parts of a digital kit once you have downloaded it. The pieces do get filed into different places depending on what they are. Designer series paper is in a file with the dsp, embellishments are in a different file. The easiest way to see all the parts of the digital kit is to use the global search feature found in the lower left corner of your program. Just type in the name of the kit and you will find all the pieces.
Today is also Terrific Tuesday because we get wonderful new downloads on Tuesdays. Click here to see the new downloads and place your order. Come back tomorrow to see what I do with the new downloads.
Supplies: MDS digital download (130646), 30-day Free Trial of MDS (130910)
Stamps: Thoughts and Prayers (came with original MDS disc), Playful Polka Dots Digital Kit (126027)