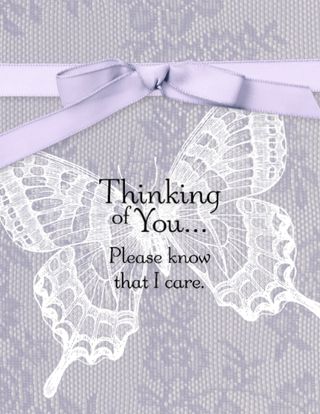 Supplies: MDS2+ (130646), MDS2 (130644), MDS2 upgrade (130650), or 30-day FREE trial of MDS2 (130910); Background - Wisteria Wonder; Stamp Brush Sets - Swallowtail Butterfly (133011), Natural Composition Overlays - 12 (130855), Thoughts and Prayers - Thinking of You (comes with MDS1); Embellishments - Timeless Taffeta Trimmings (131329)

This card is a good one to make for those just starting out with MDS2 as there are very few steps in making it. I started with a 4 1/4" x 5 1/2" portrait card and added Wisteria Wonder card stock. Then I applied this lovely lacy Natural Composition Overlays pattern 12 and colored it Very Vanilla. I was pleasantly surprised at the results. Next I added the Swallowtail Butterfly which was a new download last week  and resized it to fit on the card. I changed the color to Whisper White and rotated it. I added the greeting from Thoughts and Prayers leaving it black.
As a final touch I added the large bow and the ruffled bow from Timeless Taffeta Trimmings. I left the ruffled bow its original size and just moved it over to a section of the ribbon that was straight. That set of embellishments does not come in Wisteria Wonder so I started with Crumb Cake and recolored them with Wisteria Wonder.I have a couple of friends who are starting cancer treatment this month. This is a perfect card to make into a hybrid card to send to them.
Click here to see the rest of last week's downloads and here to see this week's downloads and order the ones you love.
Did you know I have a FaceBook business page? Click on the FaceBook symbol to go to the page. Then click 'like'. I need to get a few more likes so I will be eligible for insights. Thanks for doing this for me. Also, spread the word about this MDS only blog.
Until your next visit...blessings,
Sue
sue@mydigitalcraftcorner.com