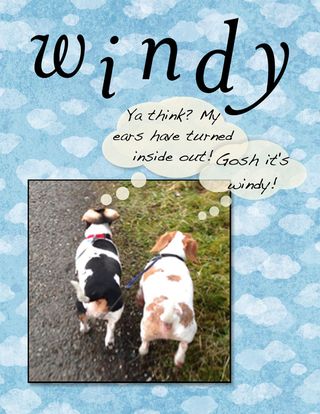 Sorry I was missing in action for so long. I was responsible for a craft project at a Christian Women's Retreat last Saturday and had to prepare project kits for 16 ladies. We made a darling suitcase memory box. The project was a little more detailed than was possible to finish in the allotted 45 min. Fortunately, I had typed up directions so they can finish their boxes at home. A great time of fellowship, spiritual inspiration, and fun was had by all. The theme was Journeys and the decor was filled with all kinds of maps and suitcases. There were food demonstrations from a variety of countries and crafts from many countries as well.
Now on to some digital creating. When the wind blows here, it really blows! It blows so hard that the dogs' ears get blown inside out when we take our walks. I finally got a great picture which begged to be scrapped.
I love the Sunshine & Sprinkles Designer Series Paper (130670) and the clouds pattern suggested a windy day to me. I filled the Thought Window Punch from Celebrate Any Day Greeting Card Templates (127757) with Very Vanilla color and reduced the opacity to 80%. The title was created with the Love Birds Alpahbet and Numbers stamp brush set from the Love Birds Digital Kit (124443). I used the Handwriting - Dakota font for the journaling.
I am trying to build up the number of people who 'like' my business FaceBook page so that I can qualify for FaceBook Insights. Please go like my page if you haven't done so already. Thanks!
Thanks for stopping by to visit. Come back tomorrow to see what new downloads catch my eye.
Until your next visit...blessings,
Sue
sue@mydigitalcraftcorner.com