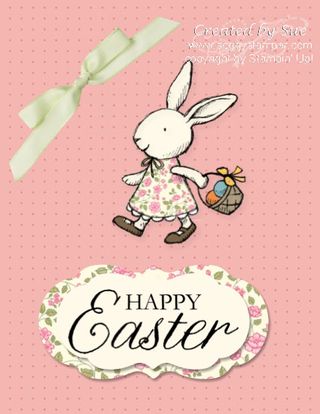 I love the bunnies that are part of the Everything Easter Ensemble. Actually, I really like all the parts of this ensemble. The Everything Easter Ensemble was released prior to the release of MDS2 so the stamps could not be colored in. Instead, they included a colored paint layer for each of the stamps. You added the colored paint layer to your project and then the stamp. By grouping the two, you end up with a colored in image.
This past week Marie Drahorad shared a tutorial on how to use designer series paper to color a stamp. Essentially, what you do is add a punch filled with your designer series paper behind the stamp. You use the freeform brush to color the areas of the punch outside the stamp with the background color.
For this card, I created a rhomboid punch about the size and shape of the bunny's dress and filled it with pattern 6 of the Springtime Vintage designer series paper. I used the freeform brush to color 'outside the lines' with the background colors and to color her shoes and the basket of eggs. I added the pattern 10 of the Hip and Handsome Overlays colored Primrose Petals to the Blushing Bride background for some added depth and texture in the background.
Here is a picture showing the projects you get with the Everything Easter Ensemble. What doesn't show is all the stamps, embellishments, and even an egg punch that come with the kit. You can get an idea of the designer series papers from the designs of the eggs. It is not too late to order this kit and create your own Easter decor. All you need is MDS, some Whisper White cardstock, a printer, adhesive, and some scissors.
Have a wonderful and blessed Easter,
Sue Erickson
sue@mydigitalcraftcorner.com
Everything Easter Ensemble (129363)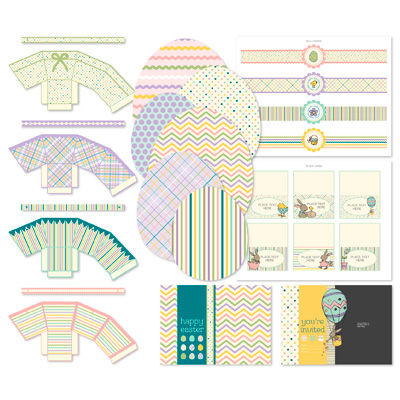 Background
     Card Stock/Blushing Bride

Embellishments
    Timeless Taffeta Trimmings - large bow certainly celery

Stamps
   (125753) Hip and Handsome Overlays - 10, Color = PRIMROSE PETALS
   (129363) Everything Easter Ensemble- bunny, Color = BLACK
   (124436) Easter Blossoms - happy easter, Color = 0,0,0

Punches
    Users/Rhomboid,  Filled with: (122172) Springtime Vintage Designer Series Paper - pattern 6
    (127757) Celebrate Any Day Greeting Card Templates - Any Day Label Punch,  Filled with: Springtime Vintage Designer Series Paper - pattern 6
   Any Day Label Punch, Fill Color = VERY VANILLA
To order the supplies used to make this Easter card using the Everything Easter Ensemble just click on the linked item names or visit my online store.