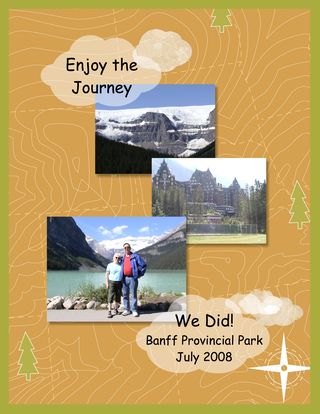 My husband and I love traveling. He retired from 37 years in education onJune 30, 2008 and we took a couple months traveling in our 5th-wheel trailer. I have always wanted to see Banff and the stupendous mountains in the Canadian Rocky Mountains so that was our first destination.
Due to our love of traveling, I purchased the Travel Log Kit (126022) a long time ago but have not used it until this week. I was using it for a different project and discovered it has some wonderful designer series paper patterns. They inspired this scrapbook page of our trip to the Banff Provincial park. The Travel Log Kit has an embellishment of a couple of clouds with the saying Enjoy the Journey and an image of an airplane on it. Since we took a road trip, that embellishment wouldn't work so well. I used my global search feature of MDS2 to find other clouds in my downloads and chose to use clouds from the Sunshine & Sprinkles Ensemble (130668). I added the text using a Comic Sans MS font. I urge you to check out the various kits available for download. You may not want to use them for scrapbooks but they do contain some wonderful designer series papers, stamp brush sets, and embellishments that can be used in cards. Click on the linked names of the product I used or visit my online store to order this kit and ensemble. If you do order either ensemble, email me a photo of your project and I will feature it on my blog.
Oh, yes...today is Terrific Tuesday! I almost forgot to include the link to the new digital downloads for today. Click here to view them and order the ones you want. You know you want some!!!
Thanks for coming by to visit today. Grap a cup of coffee or tea and relax a bit while browsing through my projects.
Until your next visit...blessings,
Sue Erickson
sue@mydigitalcraftcorner.com