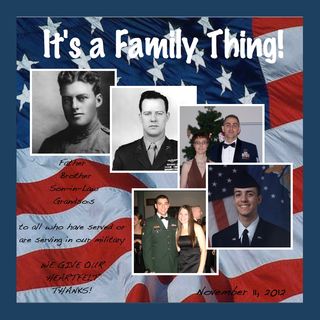 Welcome to My Digital Craft Corner this Veteran's Day 2012. In honor and appreciation of all the veterans and military serving our country, I created this 12 x 12 page scrapbook page using MDS2. I didn't use any special stamps or backgrounds other than the Night of Navy card stock. The flag picture is one I got from the Chicago Tribune photogallery and filled into the 1.25 square punch. The men in the photos are Ron's father Norris Erickson who served in the Army during WW1, his brother Ed Erickson who flew planes for the Marines in WWII, our son-in-law Joseph Johnson who served active duty in the Air Force and now works in the Air National Guard, our grandson Brandon Johnson who is in the Air National Guard, and our grandson Nathaniel Johnson who is on active duty with the Army in Germany.
Our country owes a big debt to all those who have served in our military and continue to do so to protect our freedoms. Grateful thanks to them and their families for their sacrifices.
Thanks for stopping by today. Do come back tomorrow for Terrific Tuesday and see what great downloads, Stampin' Up! has for us.
Until next time...blessings,
Sue
sue@mydigitalcraftcorner.com