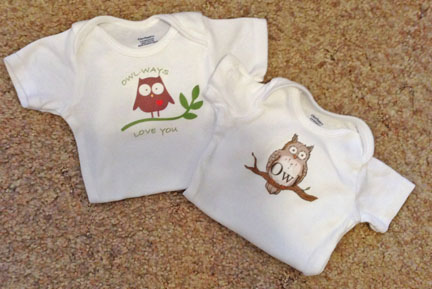 Did you know that you can use MDS2 to adorn clothing and home decor items? I needed a baby shower gift and the theme of the nursery was owls. There are not many baby items featuring owls in the stores in our town so MDS2 to the rescue. I used the owl embellishment from the Play Date Embellishments digital download (123433) and the branch from the Extra-Large Two-Step Bird Punch (122131) for one of the onsies. I used the MDS2 feature of attaching text to a line to create the wording "Owl - ways Love You." For the second onesie, I used the owl embellishment from the Storytime Ensemble (127195) and the "owl" stamp that is included in that ensemble.
I grouped each owl and its parts then copied and pasted so I had two of each image on my 8 1/2" x 11" paper to economize on transfer paper. I printed it out on a piece of copy paper to check the size of the images, adjusted them to fit on the onsies, and then printed it out on Avery 3271 ink jet Light Fabric Transfers. When you print the page out, be sure to print it as a mirror image so that your wording comes out correctly.
Once printed on the transfer paper, cut the images out and follow the directions that come with the transfer paper.
These onsies were a big hit with the mom-to-be. The were four onsies in the package so I have two more all ready to give at the next baby shower I attend. To create these images for yourself, just click on the linked download names.
I hope this has widened your visions of how you can use MDS2 beyond creating digital cards and scrapbook pages.
Until your next visit...blessings,
Sue Erickson
sue@mydigitalcraftcorner.com