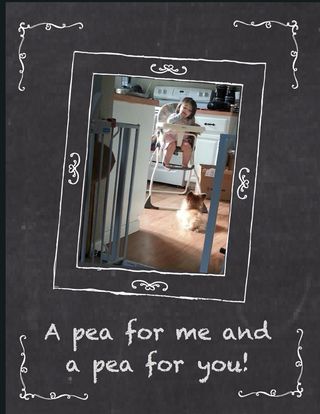 If you have a toddler and a dog in the house, you are quite familiar with the scene in this photo. Heck, we don't have any kids at home but our two very spoiled dachsies sit right at our feet during a meal hoping we will drop a tidbit or share our people food with them. They think almost all people food is a delicacy. :o)
I love the contrast between the shadow in the foreground and the light on our darling great-granddaughter and her dog Bandit. I also love the chalkboard designer series papers and stamps in the Convention 2012 Photobook Template download  (130971) so I used them to highlight this wonderful photo. If you haven't already purchased this download, I urge you to do so by clicking on the link. I think you will love it too. BTW, I used the Chalkduster font for the text.
Thanks for coming to visit today. Come again tomorrow to see what new digital download I choose to highlight.
Until your next visit...blessings,
Sue
sue@mydigitalcraftcorner.com