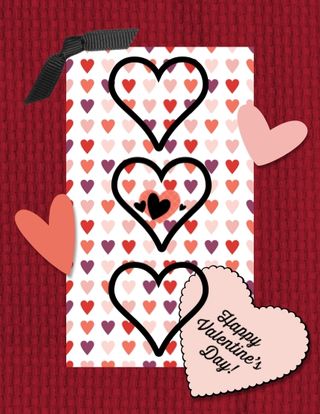 Supplies: MDS2+ (130646), MDS2 (130644), MDS2 upgrade (130650), or 30-day FREE trial of MDS2 (130910); Background - Card Stock/Cherry Cobbler; Embellishments - A Little of This Tag Templates (127585)– hearts tag template, Hearts & Kisses Photocard Template (129012)- heart 1, Basic Black Grosgrain Ribbon (118852) - knot;
Stamps - Natural Composition Overlays (130855) - 11, Officially Awesome Valentines Designer Template (133009) - hearts, Valentine Love Ensemble  (133327)- happy valentines day, Wedding Words stamp brush set  (129342) - vertical hearts; Punches - Hearts Punches (come with MDS2) - Medium, Tall, and Small sizes, Hearts Collection (129337) - 2
Happy Valentine's Day to you all. Yes, I am a little late with this post but I still wanted to send wishes to you. I pulled out all the stops...err hearts in my arsenal of stamps, punches, and embellishments. After getting the card created, I felt he background was a little blah so I added the Natural Composition Overlays - 11 stamp brush in Basic Black.
I expected my dh to have forgotten Valentine's Day because he has been so focused on getting the school budget built for next year and revising this year's budget. But he did good!!! He came home with a very sentimental Valentine's Day card that totally describes our love and life together AND a dozen red roses! It has been years since he has brought flowers home for me.
So I hope all of you, married or not, have had a day filled with love of many kinds.
Hugs and blessings,
Sue Erickson
sue@mydigitalcraftcorner.com