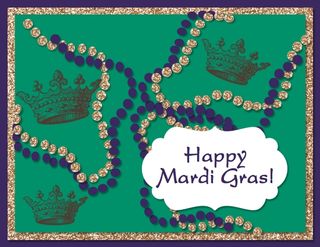 Happy Mardi Gras! My business coach challenged us to write a blog post with a Mardi Gras project so here you are - gold and purple beads with crowns and a green, gold, and purple color theme. This project has 24 layers as each bead was created with a circle punch filled with either gold glimmer paper (132917) or Concord Crush color. The crowns are from the Artistic Etchings stamp brush set (124013). I added the greeting using the Dreamer One font in Concord Crush color onto the Perfect Label Punch (127340).
If you want to give digital designing with My Digital Studio a try, click here to order the FREE 30-day trial of MDS2 (130910). I love using MDS2 and love helping others get as much enjoyment out of using the program as I do. There is no risk involved. If you decide you like the program and want to continue to use it order it either as a digital download or on a disc before the free trial period ends. If you decide digital creating is not your thing, just do nothing and the program will expire after 30 days.
Today is also a Terrific Tuesday. You can view the new downloads here. Thanks for coming by to visit. Come again tomorrow to see which of the new downloads I choose to feature.
Until your next visit...blessings,
Sue
sue@mydigitalcraftcorner.com