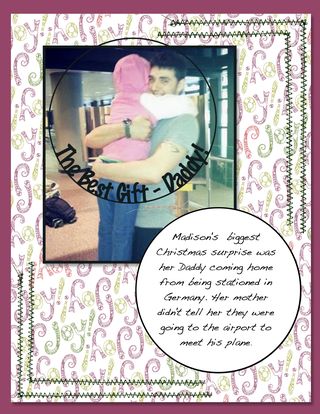 Supplies: MDS2+ (130646), MDS2 (130644), MDS2 upgrade (130650), or 30-day FREE trial of MDS2 (130910); Background - Card Stock/Rich Razzleberry; Embellishments - Fan Fair Photobook Template (127202) - embellishments/stitching black corner 6 (re-colored); Punches - 1.25 Square Punch, filled with: Holiday Wrap Designer Series Paper - 4 from the Holiday Wrap Digital Kit (132820), 1.25 Circle Punch, Fill Color = WHISPER WHITE
This picture is priceless and I just had to scrap it. Nathaniel and his family surprised us by arriving home from Germany on Dec. 26th instead of January 8th lwhen we were led to believe they would be home. Our great-granddaughter who lives with her mother in Anacortes was told she and her mother were going to the airport to pick a package. She was so surprised to find out the 'package' was actually her Daddy and her sisters.
I used the designer series paper from the Holiday Wrap Digital Kit. I love this set of designer papers and felt the 'joy' theme of this particular paper was so appropriate. The digital kit includes punches to fill with designer series paper, print out and create bows. Although the title indicates they are designed for a specific holiday, the punches can be filled with any designer series paper or card stock. You now have a wealth of exclusive bows at your fingertips.It took a little fiddling and adjusting to get the bow to print out double-sided properly but it was worth the effort. I highly recommend you purchase this download!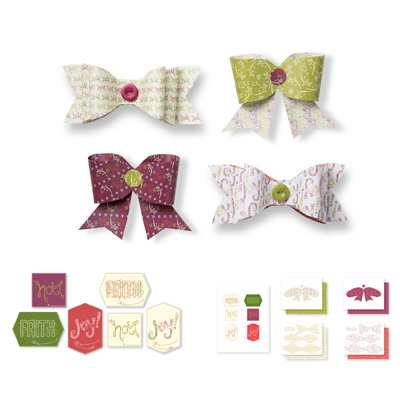 Until next time...blessings and Happy New Year!
Sue
sue@mydigitalcraftcorner.com